Before coming to class please read the following
Bookings, for regular classes, are no longer required.
Entry and Sign In
Please do not attend if you have any cold or flu like symptoms.
You must not enter the premises if in the previous 14 days you have:
returned to Australia from overseas (other than a safe travel zone country)
been in close contact with an active COVID-19 case
been in a Queensland declared COVID-19 hotspot, place of concern or exposure venue, as defined by the Chief Health Officer
had a fever, cough, sore throat, headache, distorted sense of taste, shortness of breath, chills, vomiting or any cold/flu like symptoms in the last 72 hours.
Sign In
All students will need to sign in on arrival. Please use the Check-In QLD app to register your visit to our studios.  Alternatively, please see a teacher so we can take your details.
Face Masks
All students should wear masks at all times while in the premises including the waiting area, bathrooms and studios.
While we are operating in a High-risk Impacted Area
Please wear your mask when inside the building.
You do not need to wear masks exercising if you have difficulty breathing with it on.
Entry and Hygiene
Enter through the front door and sanitise your hands. Sanitiser stations are at the entrance as well as outside studios. as well as hand washing facilities in the foyer and in the bathrooms.
Come dressed ready for class and go directly to the studio of your class after changing shoes unless you need to use the bathroom. When passing through the foyer please be aware of social distancing
Physical Distancing
Maintain the 1.5 m distance rule in the studios and when moving about the building.

Cleaning
Barres are sanitised before and after all classes. Facilities are cleaned regularly.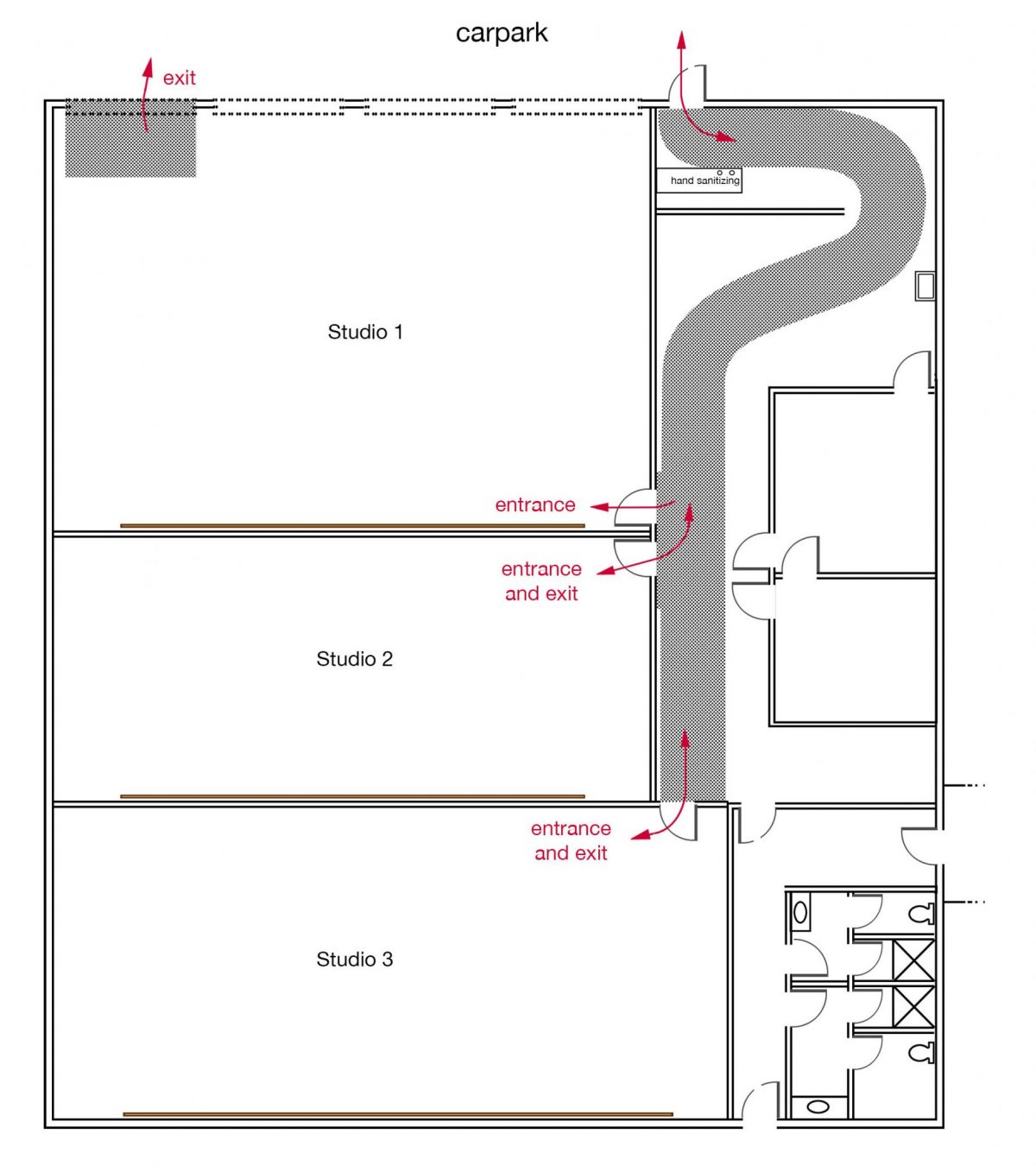 Please make payments through internet banking and if you are using a class card hold it out for your teacher to click.
No physical contact. Wear your face mask while inside the building.
Please do not attend if you have any cold or flu like symptoms.
Wash or sanitise your hands before entering the studio. There are also hand washing facilities in the foyer and in the bathrooms.
Please leave the building when your class finishes, unless you need to use the bathroom, observing the designated exits for each studio
Other Information
Coronaviris is a large family of common viruses.  There are many different types of coronaviruses. Some of them can cause colds or other minor respiratory illnesses. In rare instances they may cause severe acute respiratory syndrome (SARS).
(corona literally means crowned – it is how the virus looks physically – spiked all over)
COVID-19 is an illness caused by a new form of this virus type in 2019.
The name of this specific coronavirus is SARS-CoV-2.