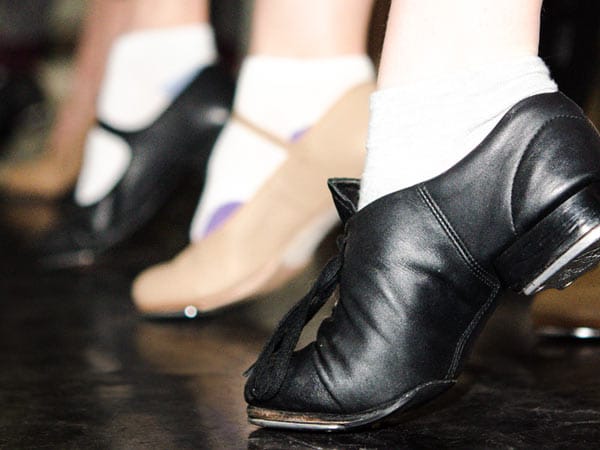 Tap
From Broadway to Street style – each of our teachers offer a variety of styles of Tap. A great dance discipline for fitness and memory.
Introduction to Tap 10 weeks. This course will get you started with the basics for many styles of tap – from its origins on Broadway to Street Tap today.
Tap Level 1 – A follow on from Introduction to Tap, or suitable for those with some tap experience.
Tap Level 2 –  An intermediate level tap class.
Gentle Tap – A slower paced class that follows on from our Introduction to Tap 5 week Course. Suitable for Seniors.
What to wear
Dance or gym wear clothing with tap shoes.
Anneka Haack
Anneka has toured extensively overseas working with a wide variety of entertainment companies and shows as a performer, choreographer and show installer.
Dale Pengelly
His career started brilliantly with being accepted into the prestigious Australian Ballet School in Melbourne. Dale has been a leading light in the Australian and international theatre scene spanning over three decades.
Gail Bubb
Gail's love of teaching and performance has enabled her to enjoy a variety of opportunities to engage students in Jazz, Tap, Theatrical, Adult Ballet and Children's Foundation Ballet. 
Grace Sinclair
Grace trained at Conroy Dance Centre in Jazz, Tap, Ballet, Musical Theatre and Contemporary/Lyrical
Karley French
Karley has performed nationally and Internationally over the past 20 years
Laura Welch
Laura is a passionate dance teacher and along with her experience, you'll discover her dynamic choreography and engaging and inclusive classes are a proven hit
Marnie Vuksan
Marnie has been teaching for 6 years and has her CSTD teachers certificate in both the tap and jazz syllabus. Always continuing to expand her knowledge and skills, she has performed at many corporate gigs and taught a variety of styles and ages around Australia.
Mike Lapot
Mike is a professional dancer, teacher and freelance choreographer who is passionate about positively impacting everyone who has a love for dance
Sam Windsor
Sam's passion for tap is infectious and he is known both on and off-stage for his enthusiasm, positivity and professionalism.
Tori Windsor
A qualified ATOD Associate Teacher, Tori teaches all styles of dance
Tracey-Lee White
After graduating from the Australian Ballet School in 1990, Tracey-Lee joined the Queensland Ballet Company in 1992 dancing many soloist roles including Merthyr, Queen of the Willis, Fanny Ceritto in Pas de Quartre & Big Swans in Swan Lake.
Lynette Denny
Guest Teacher
Lynette has been a teacher of classical ballet and theatrical dance since 1964, during which time she has honed her teaching skills with leading industry professionals both in Australia and overseas.