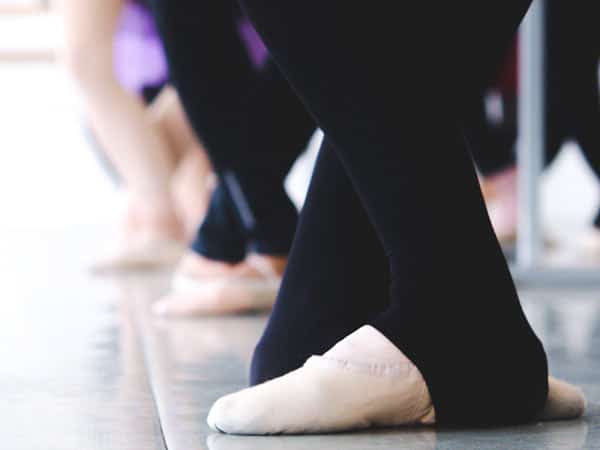 Ballet
A graceful and structured dance technique that can benefit anyone of any age. It provides strength and flexibility and is also a great technique to supplement other dance styles.
Explanation of Ballet Levels
Introduction to Ballet 10 week course – This course is designed specifically for adult beginners. We have been running this course since 2007 and it is proven to be the best place for adult learners of any age to start their dance journey.
This course provides a comprehensive foundation of ballet technique with a focus on co-ordination, balance and how to to develop core strength and flexibility. Often people choose to do a course twice before moving to either the Level 1 Preparation or Level 1 classes.
We generally have 3 Intro to Ballet courses running at the same time so If you want to fast track you can do more than one class a week, just purchase another card when the course card runs out.
Gentle Ballet – This is a slower paced class that includes warm up exercises for strength and flexibility and has a creative focus exploring self expression through beautiful music. Suitable for Seniors and beginners who have done just a little ballet.
Ballet Back to Basics – In this class the teacher will be breaking down the underlying technique of fundamental steps in ballet. If you have any steps you would like to work on come along and put your requests in. This is a great class to ask questions, practise steps and get feedback.
Ballet Level 1 Preparation – This class is a bridging class where you get to consolidate the content from the Introduction to Ballet course if you do not feel ready to move to Ballet Level 1. Alternatively you can take this class as a supplement to the Level 1 class.
Ballet Level 2 Preparation – This is a class for those that have been in a level 1 for a while and would like to learn and practise the steps you are likely to do in a level 2 class.
Ballet Level 3 Preparation – This class is a bridging class between Level 2 and Level 3. In this class the focus is on learning technical details to carry out the steps you will get to do in Level 3.
Ballet Level 1 – a beginner level class for those who have had a little ballet experience. It is a follow on from Introduction to Ballet. It's a good place to start back if you did ballet as a child, or have done beginners ballet elsewhere. Its also good if you just want to go back to basics.
Ballet Level 2  – suitable for those that have done ballet for approximately one to two years. It is also a good place to start back if you did ballet as a child. It can be good class to come to if you did quite a lot of ballet when you were young and you want to come back slowly.
Ballet Level 3 – a medium level class is for those that have done ballet for two, three years or more.
Ballet Level 4 – an advanced class for those with four years of ballet or more.
Ballet Professional Level – Suitable for professional, ex professional and advanced dance students.
Beginner Pointe – a 30 minute class is for those who want to try pointe for the first time. If you aren't sure if you are ready for pointe work just ask your teacher for advice.
nb: To start pointe you need at least I year minimum of ballet classes. Please make sure you consult your teacher before coming to class so they can advise you whether you are ready for pointe work.
Pointe Level 1 – This class if for those who have started pointe or have done a little pointe in the past.
Pointe Level 2 – For those with 2 years or more experience with pointe work.
Pointe and Variations Level 1/2 – A class for those with some pointe experience. Learn well known variations from famous ballets and some strength and techniques. Level one students can join the first fifteen minutes in their pointe shoes and learn the centre work in their flat shoes. Bring your own tutu or skirt to add to the fun.
Repertoire – All levels. In this class you will learn sequences adapted from either existing traditional ballets or new choreography. The sequences are taught for approximately 8 weeks before moving on to a new one.
What to wear
Dance or gym wear with soft ballet shoes (flats). Ballet flats come in leather or canvas, with or without split sole. All are fine, whatever feels most comfortable.