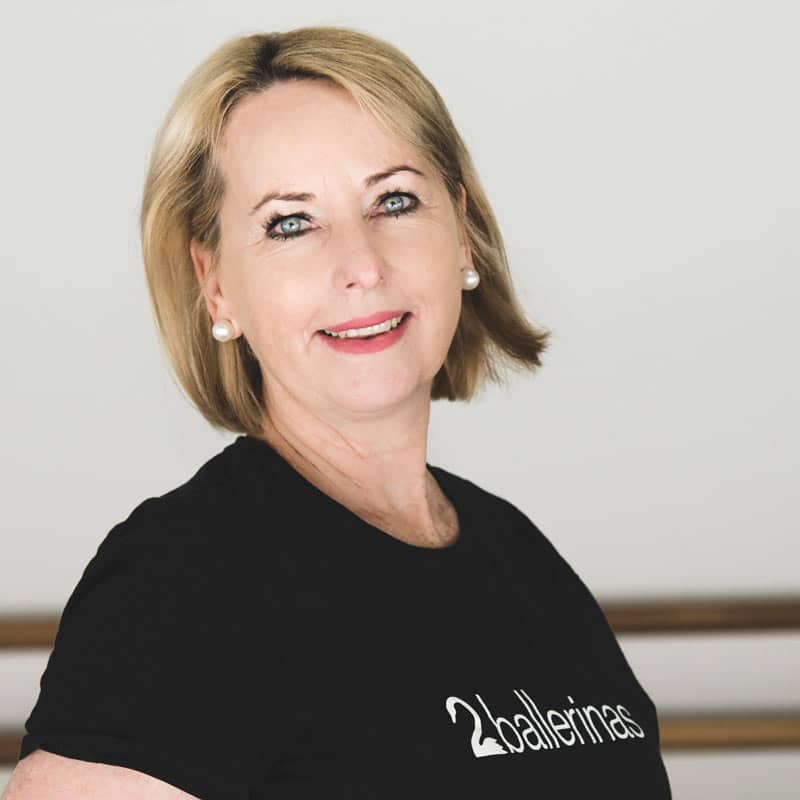 Beginning her career with The Queensland Ballet, Michelle was able to refine herself as an artist at the London City Ballet Company, a prestigious company patroned by the late Princess Diana, before returning to a celebrated career at The Queensland Ballet.
Since her retirement in 2000, Michelle has been recognised by the Australian government for her contribution to dance by way of appointment to the Board of Trustees of the Queensland Performing Arts Trust (QPAT), and as a recipient of the distinguished Centenary Medal.
Michelle is also featured in the book Queenslanders All Over, which was officially launched at Parliament House in 2010 by the former Premier of Queensland, Anna Bligh. For Michelle, 2ballerinas is a culmination of her passion for ballet and her desire to bring together a dance community to learn and enjoy this exhilarating form of dance.
International Career
In 1987 Michelle began her international career performing with Vienna Ballet Theatre, a touring company based in Munich, and performed as a soloist for the company throughout Germany, Switzerland and Austria before being selected to join the prestigious London City Ballet.
Michelle flourished during this time, and soon advanced to senior soloist for the company, touring throughout the British Isles, Greece, and the United Arab Emirates.
During this time Michelle worked with many world renowned choreographers such as Solveig Ostergaard (Les Sylphides), Istvan Horzog (Giocosa Variations), Patrice Bart – ballet master for the Paris Opera (Swan Lake), Galina Samsova (Pas de Six), and Andre Prokovsky (Romeo and Juliet).
Highlights of Michelle's successful international career includes performing at two Royal Galas at Sadler's Wells Theatre in London, being received as a guest of the Sultan of Oman staying with the company at the Royal Palace at Muscat, and having the opportunity to meet many extraordinary people, including the late Princess Diana, Dame Ninette de Valois (founder of The Royal Ballet), and Dame Alicia Markova (one of Britain's most famous ballerinas).
Returning Home
After a successful career overseas, in 1989 Michelle returned to Australia completely revitalised and refined as an artist. The training and experience she gained at the London City Ballet gave her the finishing she sought to acquire, and with greater maturity and a strengthened interpretive ability Michelle returned to The Queensland Ballet.
Upon her return to the company Michelle won outstanding critical acclaim for her roles as Titania in A Midsummer Night's Dream, Herodias in Harold Collins' Salome, Bianca in Shakespeare's The Taming of the Shrew, Giselle, and the Princess in Natalie Weir's Medea.
In 1993 Michelle continued her overseas exposure by representing The Queensland Ballet with an invitation to dance in the highly prestigious "The Night of the Stars" Gala in Noumea, New Caledonia. Here she performed alongside principal dancers from the Paris Opera Ballet, the Alvin Ailey Dance Company, and The New York City Ballet. After rapturous audience response, Michelle was invited to perform there again in 1994. Michelle also accompanied The Queensland Ballet's first overseas tours to New Zealand and to the United States of America.
Retirement
In 2000, after two decades of dance with The Queensland Ballet (an amazing accomplishment in the competitive and demanding world of this profession) Michelle hung up her ballet shoes and formally retired. After her retirement Michelle received an appointment from the honourable Minister for the Arts, Mr. Matt Foley to represent the dance contingent to the Board of Trustees of the Queensland Performing Arts Trust (QPAT).
In 2003, Michelle received the Centenary Medal for her contribution to dance. She shared the presentation with other famous Australians at a ceremony in Australia House, London.
Performer after Retirement
Michelle came out of retirement to perform in several of Rosetta Cook's works.
These include dancing in a short film part of the SBS series called Frocks Off, dancing with Rosetta in their collaboration TutuFruti, and she was an integral part of the creative development of two dance theatre pieces The Little Green Road to Fairyland for QMF and Heaven Hell and Tango.
Teacher
Michelle returned to the British Isles as a guest teacher for Ballet Ireland, and guest teacher for Marion St Clair in a Bond Street London School. In 2004 she returned to Australia and has been a guest teacher for various schools around Australia and adjudicated in many Brisbane Eisteddfods. In 2007 she co-founded 2ballerinas, Brisbane's first dance school for adults, with Rosetta Cook.