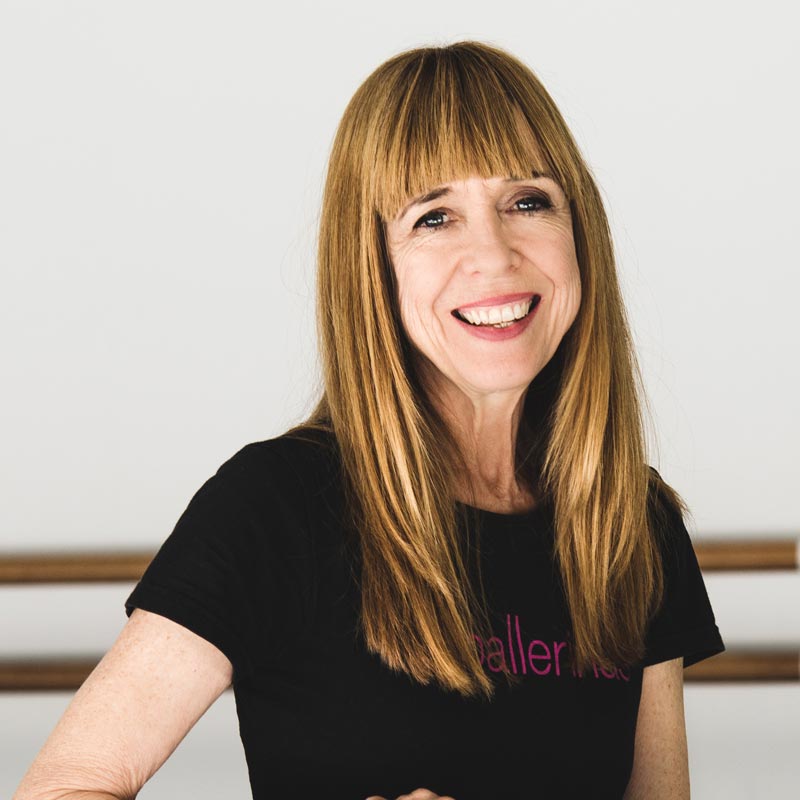 Co-director of 2ballerinas, Rosetta Cook is an independent director/choreographer and performer who works across genres in dance, film, theatre and opera.

An Australian Ballet School graduate, Rosetta is co-director of 2ballerinas and a teacher. She has had wide-ranging career as a director / choreographer and performer in dance, theatre, film and opera.
Performer
Rosetta was Principal Ballerina with The Queensland Ballet from 1982 – 1992.
She received critical acclaim for her dramatic interpretation of the roles in works such as such as Salome, Giselle, Romeo and Juliet, Carmen, Medea and Scheherezade.
Rosetta went on to diversify her performing career working as an actor/dancer based in Sydney in various productions.
These included John O'Connell's ballroom cabaret Mr. Cha Cha Says Dance as Mme Rhumba, Fall of Singapore with Sydney Theatre Company, the Mother in The Empty Lunch Tin for Theatre of Image, and as a Montmarte Dancer in Baz Luhrmann's Moulin Rouge.
In 1999 she began to dance tango and her passion for this dance has influenced much of her creative work since for film and stage.
Choreographer / Director
As choreographer/director Rosetta has created over 30 works for major dance, opera and theatre companies and universities, as well as independent projects funded by NSW Ministry for the Arts, The Australia Council for the Arts and Arts Queensland.
Rosetta has written and directed four short films, Frocks Off, The Red Dress, Barwork and The Last Tango in Sunnybank that have screened on ABC Arts programs and at festivals in Australia and overseas.
In 2005 she was commissioned by SBSi to create and direct a 12 part mini documentary series, stories about women's dresses called Frocks Off.
In 2010/2011 Rosetta's collaborated in the studio with composer Elena Kats Chernin to develop a dance theatre piece The Little Green Road to Fairyland which was presented at the Queensland Music Festival 2011 receiving outstanding reviews.
Following this she created a tango-based work for The Queensland Ballet Gala season Hall of Flame 2011, a piece in creative development Love after Love for Qld Ballet Vis a Vis studio seasons, a creative development grant from Arts Queensland for a full length dance theatre work Heaven Hell and Tango 2013 and a collaboration with composer Timothy Constable of Synergy on Ordinary Time and Spirals for Southern Cross Soloists season at QPAC 2013.
From 2015  – 2017 Rosetta was invited to work as Choreographer/Movement Director for Opera Queensland on La Traviata, Candide, Madame Butterfly, Snow White, Ruddigore and The Merry Widow.
Awards
In 2015 Rosetta was awarded a Churchill Fellowship to research a new form of partner dance combining tango and contemporary dance techniques called 'Contact Tango'. To carry this out she travelled overseas in 2017.
In 1982 Rosetta received an ADAMS Most Outstanding Dancer Award, in 1983 an Advance Australia Award and she was a finalist nomination for Queenslander of the Year.
In 1996 Rosetta received 1st prize for her piece Tangled Heart at the AICD Dance Creation Choreographic Competition. In 2003 – 2005 Rosetta was a recipient of an Australia Council of the Arts Fellowship awarded to her to develop dance work for screen.
Her short film The Last Tango In Sunnybank which she co designed won Best Production Design at the BIFF 2011 Queensland New Filmmakers Awards.
Teacher
Rosetta guest teaches in ballet, contemporary dance and tango.
She has taught at numerous schools around Australia over the years. In 2007 she co founded 2ballerinas dance school for adults with Michelle White. See: Rosetta's website.